I finally made it! I've been waiting to join the Mommy's Club for a long long time and Porter made 2011 my year of acceptance. My friend
Chelsea
has a beautiful picture of herself right after the delivery of her baby girl.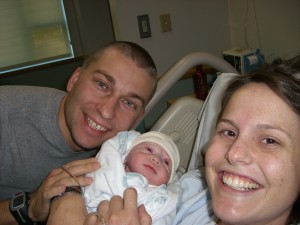 She has a smile on her face that I couldn't understand until 12:53am 1/10/11, this moment Porter was passed by dad into my arms. What I expected to be a teary emotional time for me turned out to be ecstatically happy and thrilling time. I was over the moon to say the least.
Being a mom is a truly rewarding, sweet, and life altering experience. Everyday Porter learns or shows me something new and I never tire of loving on him. My love grows everyday, and with that comes the natural worrying that I'm sure will add many grey hairs and wrinkles in the next year, but I welcome them. In my Mother's Day card from my parent's my dad wrote, "You were born to be a mother." I agree, there is no better job than this. I also have to thank my husband for working so hard so that I can stay home with our baby. I love my family and I love all my mommy friends new and old.
My Mother's Day pic with all my goodies: Porter, lovely card from Luke, a latte, beautiful flowers, kitty over my shoulder, and a pile of folded laundry (that I didn't fold!) Thanks Luke!
Porter is rockin' the fashionable baby skater outfit, complete with Santa Cruz Skate Shop onesie and stripped baby leggings.
Thanks to the Larson's for making this awesome outfit possible.
He's entranced with the cat.